Products
FIG 1003 Union
Since the ball has a spherical seat, it can provide a skew or angle adjustment of 7-1/2 degrees from the center, and the total skewing ability is 15 degrees. In addition to the steel-to-steel combination, the nitrile rubber O-ring guarantees the airtightness of the connection at any skewed position.
Recommended for high pressure pipeline connections that cannot be used for timing, for air, water, oil, mud or gas applications
FIG 1003: 10000psi WP (7500psi WP, 4in, 5in), black nut, green parts.
.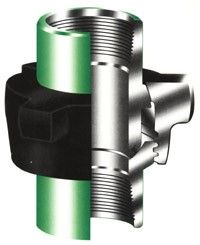 Nominal Pipe Size

End

Total Length

Nut Radius

Materials

Weight

in

mm




in

mm

in

mm

Nut

Parts

Lbs

Kgs

3

76.2

NPT

91/8

231.8

47/8

123.8

SC

SA

45.0

99.2

3

76.2

SCH160

87/8

225.4

47/8

123.8

SC

SA

47.5

104.7

3

76.2

XXHVY

91/8

231.8

47/8

123.8

SC

SA

48.5

106.9

4

101.6

NPT

1015/16

277.8

53/4

146.0

SF

SF

72.0

158.7

4

101.6

SCH160

1011/16

271.5

53/4

146.0

SF

SA

76.0

167.5

4

101.6

XXHVY

1015/16

277.8

53/4

146.0

SF

SA

78.0

172.0

5

127

SCH160

103/4

273.1

53/4

146.0

SF

SA

74.0

163.0

5

127

XXHVY

1015/16

277.8

53/4

146.0

SF

SA

76.5

168.7
Note: SC = Cast Steel, SF = Forged Steel, SA = Alloy Steel